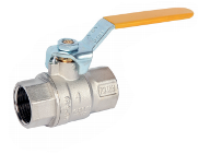 Inside industrial and commercial applications, the 2-Piece Full Port, Lead Brass ball valve - dzr brass is used for a varied range of gases and liquids. They are having a blowout-proof stem with a steel handle and chrome-plated lead-free ball of brass. The connections on the ends are either solder-ended or threaded. The chemical reaction Dezincification selectively takes out zinc from the alloy while under certain circumstances when they exposed to specific combinations of chloride concentrations and pH along with applications which have water of high temperature, soft water, brackish water or seawater. Dezincification can be also defined as corrosion's severe form. A valve inside which dezincification happens, on its surface, comes with mineral oxides or powdery white substances over the exterior parts which can lead the steam or body to leak.
The solution for this problem lies with a dezincification resistant alloy which is DZR brass. This material is the perfect choice for the prevailing aggressive conditions. This brass is an alloy of zinc and copper that has been designed for resisting corrosion and for avoiding the phenomenon which creates the electrolytic separation of Zinc. A mixture of beta and alpha phases are contained in the Standard Extruded Brass along with a fine distribution of the lead particles that imparts amazing machinability. Binary brasses have soluble zinc inside copper for around 37% and this offers an all-alpha phase that again increases inside zinc results in the appearance of the second phase which is beta. The extruded brass has a combination of alpha ductile at room temperature and easily hot worked beta which is the key for a wide range along with unique fabrication properties. The beta phase is again vulnerable towards dezincification. DZR brass achieves resistance to dezincification with a specific composition of chemical along with an extensive heat treatment during which the transformation of the beta dangerous phase takes place.
Looking for ball valve - dzr brass in the Middle East? Get supplied by Dutco Tennant LLC. We are the biggest supplier in the Middle East and will deliver you the most trusted and reputed solutions.
Features
Screwed BSP Parallel (ISO 228/1)
PTFE Seats & Seals
Anti-Blow Out Stem
Full Bore
Locking Lever & Tee Handle Options Available
WRAS & EN331 Approved
Technical Data
| | |
| --- | --- |
| Max Pressure | ¼"-1" 40 Bar, 1¼"-2" 32 Bar |
| Working Temperature | ¼"-2" -20°C to +150°C |