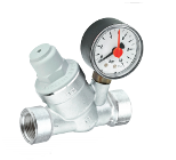 The design of the direct-acting - dzr brass valves have been made for reducing the pressure of the incoming water up to a sensible level for protecting the components of the plumbing system and also for reducing the consumption of water. They are very much suited for pressures of water supply for around 400 psi or 27.6bar and can be adjusted from 25 to 75 psi. The traditional setting stands at 50psi. All of the parts can be easily and quickly be serviced without taking the valve out from the line. The common features of bypass allow the flow of water back via the valve inside the mainline when the pressure because of thermal expansion over the outer side of the valve exceeds the pressure present inside the mainline.
The primary reasons for decreasing the pressure of the steam are fundamental. All the water equipment features a maximum allowed pressure to work. If that gets lower compared to the pressure of the water supply, then a pressure-reducing valve needs to be used for limiting the supplying pressure. When the pressure-reducing valve fails, a safety valve needs to incorporated inside the system. While starting, with the relaxing of the adjustment spring, upstream pressure with the help of a return spring holds the head of the valve against the seat inside the closed position. This rotates the handwheel towards a clockwise direction which creates a downward movement that compresses the control spring and extends the bellows for setting the downstream water pressure. The movement in the downwards direction gets transmitted via a pushrod that creates the opening of the main valve. The stream can then pass via the open valve inside the downstream piping and surrounds the bellows. With the increase of the downstream pressure, it acts via the bellows for counteracting the adjustment spring force and then closes the primary valve when the set pressure gets reached. The plug of the valve modulates for achieving constant pressure. A pressure build-up is needed for closing the valve down. This needs an increase in the downstream pressure above the set pressure proportional to the flow stream.
Are you looking for the most advanced range of direct-acting - dzr brass valves in the Middle East for all your plumbing requirements? Then you can definitely get them delivered to you by Dutco Tennant LLC. The biggest supplier in the region.
Features
Controls static and dynamic pressure
Conforms to BS EN 1567
Easy to service high temperature cartridge
AISI 304 stainless steel cartridge filter
Supplied with a pressure gauge
WRAS Approved
1/2" & 3/4" BSP Parallel Female Ends
Technical Data
| | |
| --- | --- |
| Max inlet pressure (static) | 16 Bar |
| Adjustable pressure range | 0.5 - 6 Bar |
| Min inlet pressure | 0.5 Bar |
| Max inlet temperature | 80°C |
| Factory set pressure | 3 Bar |