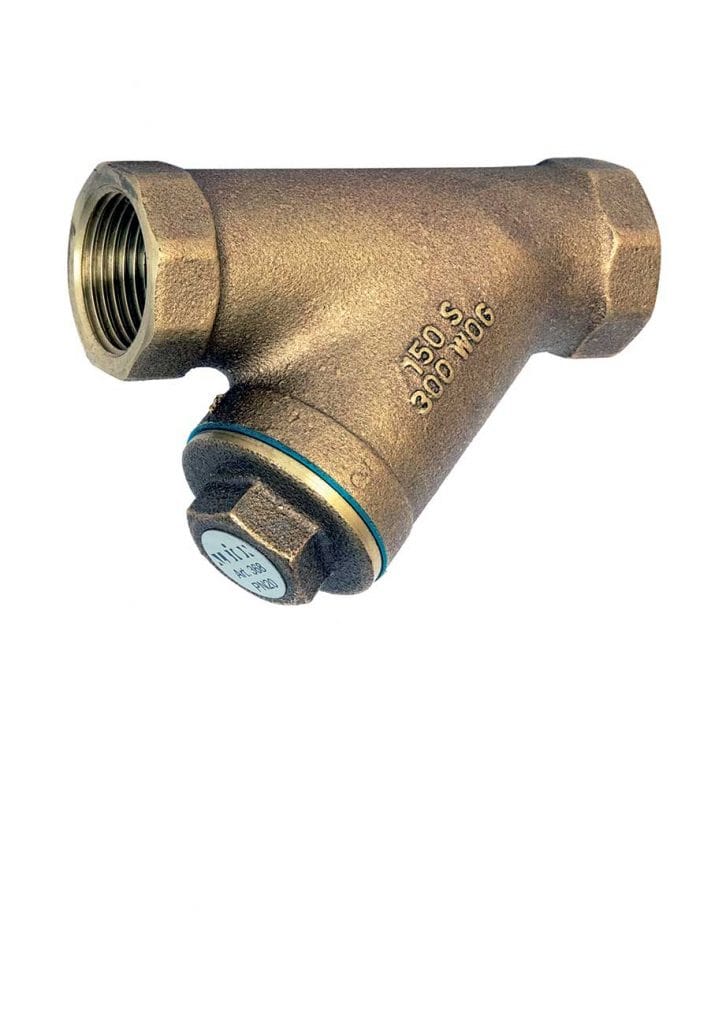 Plumbing y type strainers – bronze have been designed for providing protection over the components of the system from rust, dirt and other types of debris that can damage the piping system. This series comes with a gasket and solid retainer cap. The connections on the end are threaded.
Wye or Y-strainers have been intended for removing solids and other types of unwanted particles mechanically from fluids. They are important components in various applications of fluid control for ensuring that no downstream component gets affected by particles within the fluid. They are shaped like the English alphabet Y and are used for straining or filtering out particles from gas, steam or liquid. The mechanical process of straining is mostly made possible with the help of a filter element that comprises a perforated metal, mesh or a wedge wire straining element. The most common type of element for straining is a wire mesh. Some of them also come fitted with "blow-off valves" which makes the process for cleaning easy in applications having more dirt blowing substantially. The strainer is having a compact Y-shaped design. The shapes make way for better characteristics of flow.
Plumbing y type strainers – bronze is standard furnished with connections of drain and plugs for the pipe. Very commonly, the strainers can be seen fitted in the field having drain valves and nipples for allowing the strainer to screen to get cleaned while the system still stays in the process. With the opening of the valve for drainage while the system stays under pressure, the debris remains trapped in the screen and are blown via this connection that helps for reducing the shut-down of the system for cleaning and maintenance works. The Y-strainers are mostly offered in both foreign and domestic castings having a wide varied range of straining options for almost any type of applications. Our offered strainers meet all the regulator concerns and will offer the highest-rated service. They are extremely reliable. Apart from these, we are also supplying Y-strainers which are made up of Nickel Aluminum Bronze, Ductile Iron, Stainless Steel and Carbon Steel which meet all the requirements and certifications. They have less than one-quarter of one percent of lead in weight.
If you are in search of plumbing y type strainers – bronze in the Middle East, then Dutco Tennant LLC is the place to be. We have some of the most advanced range of solutions for your usage.
Features
Available in Screwed BSP Taper (ISO 7/1) or NPT (ANSI B1.20.1)
Bronze Body
Screwed Cap
PN20 Rated
WRAS Approved
Technical Data
| | |
| --- | --- |
| Max Pressure | 20 Bar |
| Working Temperature | -10°C to +180°C |