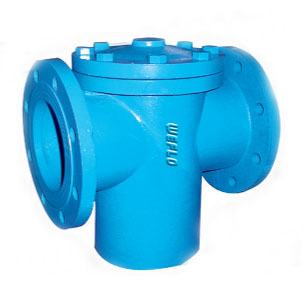 Cast Iron plumbing basket type strainers are featured with a basket which is angle-design, the body of cat iron having flanged connections, cast iron blow-off plug and screen of stainless steel. They are found in sizes of 8 to 12 inches having a side drain facing outlet from the strainer. They can also be found in large sizing also.
These strainers can protect the equipment by removing the solids from the liquids mechanically and other industrial and commercial plumbing systems having the usage of a wire mesh or perforated straining screen inside a chamber that is vertically oriented. These strainers are having much more holding capacity for debris compared to the conventional Y-type strainers. They generally have less pressure drop because of which they are ideally suited for liquid applications. Generally, these strainers are supplied in cast iron. The most preferred choice is iron as it is having the least cost and has good properties of resisting corrosion inside water and various other services. In places where a higher temperature is present or there are concerns regarding mechanical or thermal shock, carbon steel is used. They are very popular in the petrochemical and oil industries. Compared to iron, bronze can handle mechanical and thermal shock much better and it is better inside some corrosive applications and is limited for range in temperature. In places where corrosion can be an alarming issue, stainless steel is required but they are widely used in food, pharmaceutical and chemical industries. They are offered with a varied range of end connections like flanged, threaded and welded. Standards screens are offered but on request, other types can also be found. The plumbing basket-type strainers are fabricated and have a design that is basket-shaped having a huge capacity to store debris. They are made up of stainless or carbon steel and these strainers are having a slanted design on the top. Due to the design, the flow of the fluid occurs technically as the top which is slanted can maintain the low drops of pressure. When it is about the weight, the fabricated simplex basket strainers are having a weight that is much less than the other strainers. Because of the low weight, users find it easy to remove the slanted top for cleaning.
Are you in search of the most advanced range of plumbing basket-type strainers in the Middle East? Then Dutco Tennant LLC is here to offer them to you. We are the most trusted supplier in the region with over 40 years of experience.
Features
Class 125 cast iron body
Angle-designed basket
Flanged connections
Stainless steel screen
Cast iron retainer cap with graphite gasket
Blowdown plug
Technical Data
| | |
| --- | --- |
| Maximum Pressure (Non-Shock) | 200psi (13.8 bar) @ 150°F (66°C) WOG, 125psi (8.6 bar) @ 353°F (178°C) WSP. |