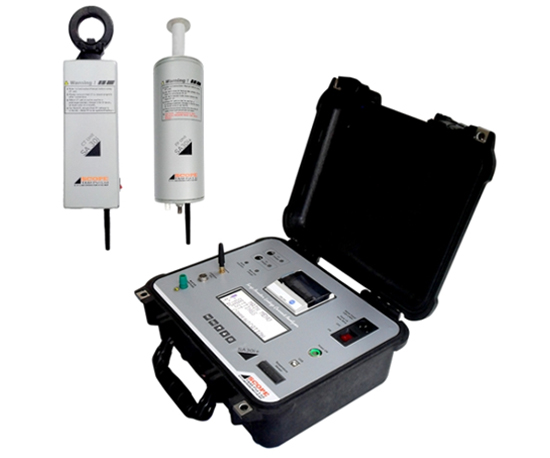 SA 30i+, the wireless Leakage Current Analyser from SCOPE is a State of the Art, On-line test system for Residual Life Assessment of Metal Oxide Surge Arresters. The instrument measures and directly displays the values of Total Leakage Current and Third Harmonic Resistive Leakage Current. It provides system harmonic compensation as per IEC 60099-5-B2. It provides Corrected Resistive Leakage Current after applying correction factors for change in system voltage & temperature.
The SA 30i+ can be pre-loaded with the LA identity details (LA Identification, Type, Serial Number,Location, Rated Voltage etc.) and tests conducted on the same ID of the arresters are saved under the same folder. Trend analysis software, SAData picks up this data and stores them in a similar fashion on a PC. This analysis software enables the user to take a decision to repair/replace the arresters considering safety limits.
SA 30i+ is designed to work under the hostile electrostatic noise found in live EHV switch yards upto 765 kV.
Features
Safe Online measurement due to wireless CT and Field Probe
In built temperature measurement facility enables calculation of temperature corrected leakage currents.
Correction of results to rated voltage of LA to eliminate eff ect of change in system voltage.
Date and time stamp on test results Results are displayed on large font, Big, back-lit LCD, printed on in-built thermal printer and can be stored in memory of the instrument.
SA 30i+, CT unit and Field Probe unit are powered by easily available re-chargeable Lithium-ion batteries. It works for a day's testing needs on a single charge
The SA 30i+ is a switchyard compatible instrument. This makes the instrument extremely convenient to use.
Built-in standard calibration source and self-calibration check facility
USB communication port to transfer data to PC and Windows based PC Downloading & Analysis Software.
Facility for testing of GIS LAs available optionally