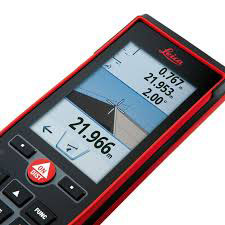 The Leica DISTO is a effective surveying solution captures multiple, accurate measurements in three dimensions from a single location, radically improving the efficiency of common measuring tasks.
Smart Base
Smart Base a biaxial pivot integrated with the circuit board is the key hardware innovation. Combined with a more powerful laser, a 360° tilt sensor, and new software SmartBase enables Leica Disto to measure the distances and angles between multiple points.
Use a Tripod
For maximum accuracy the SmartBase requires a simple level check. This guarantees the electronic level of the S910 is within ± 0.1° of true level. For the highest measuring accuracy you will want to use a tripod for the majority of P2P, Smart Angle and Smart Area functions.
Capture and Export Measurement Data
The Leica Disto connects to compatible mobile apps with Bluetooth and exports DXF files over WiFi.