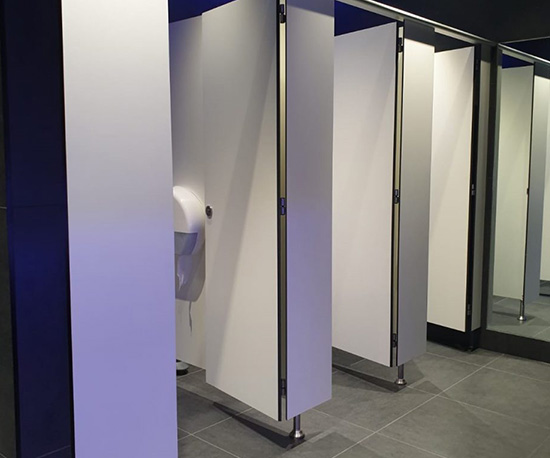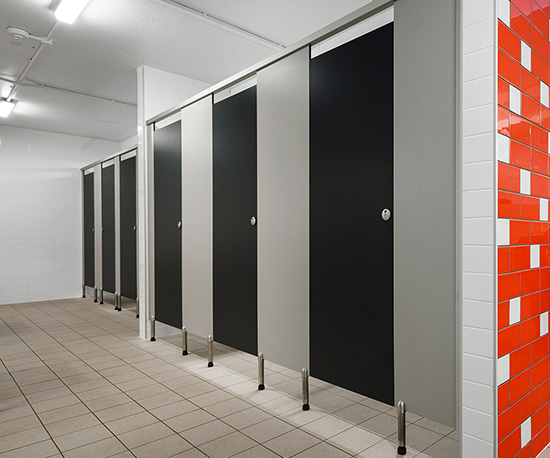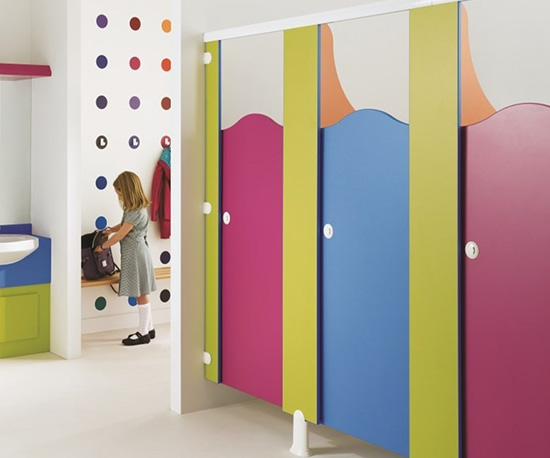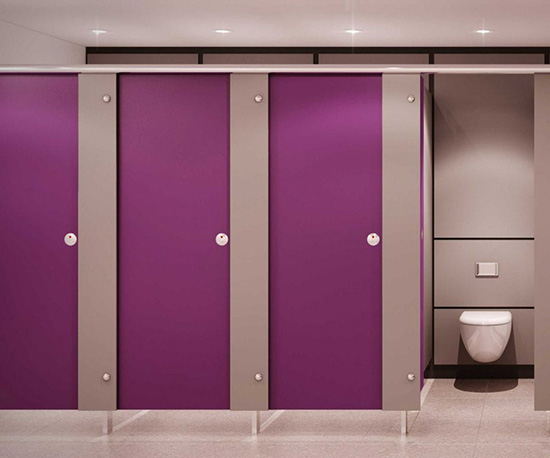 Rows of toilet cubicles are widely designed for outdoor parks, pools and shower rooms, at the office complexes, shopping malls, public restrooms at hotels, public buildings, airport & staff accommodation buildings. Toilet Cubicle construction specialities system consists of 13mm high pressure laminated solid panels along with Nylon or Stainless-steel ironmongeries.
The cubicle is made of high quality, wear-resistant plastic changing room products, comes with a smooth surface and is usually stress & distortion-free and is easy to adjust to site conditions. The partition can be of full height, with or without floor clearance and withstands hose down cleaning. We supply cubicle systems that are designed, built and installed to put the utility, sensitivity and safety of the users on the top priority. This matters the most for us. We supply HPL compact laminates PD Doors made by Merino which are made for offering space savings and are meant for renovation projects for already existing range of brick walls. These doors offer an added advantage of conventional looks along with the benefits of dry systems like easy to maintain and clean by offering adequate air ventilation for bottom floor clearance. For retrofit projects which only need doors, the versatile range of doors can offer an aesthetically pleasing solution. We have the back-to-school series from Merino which has been designed by keeping in mind all the requirements of the children of all the age groups ranging from playschool to high school. The design is made by giving special consideration to the shapes, heights, features, aesthetics and structures which are made to make the toilet cubicles children-friendly. There is security and safety with anti-finger trap mechanisms in the latch and lock covers which are used for the hinges. Apart from this in our commercial toilet cubicles range you can also find some models which are designed to offer excellent looks along with seamless functionalities. They have made their mark as one of the most desired restroom cubicle solutions in the region. The sleek design and exceptional ease of maintenance are the main features of this model. They are available with rectangular and round options of stainless steel-made top rails. They are couples with flush closing of the door that offers the model with exceptionally elegant look and best in class functionality.
Dutco Tennant LLC can supply you with this exceptional range of toilet cubicles in the entire Middle East region. For all your exceptional needs get in touch with us.