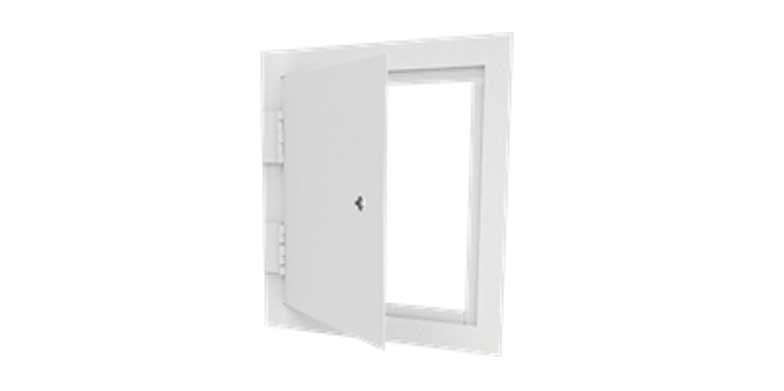 Access doors are versatile pieces of building architecture that can be availed in a wide variety of types for serving a wide range of purposes. These doors can allow access to enclosed spaces behind a floor, wall or ceiling. Some of them are having large sizes for accommodating human beings, most of them are smaller as they simply require to grant access to small compartments or spaces which are located just behind them. Most of these doors have been designed for aligning with the surfaces in which they are installed which allows them to stay out of the way for both practical and aesthetic reasons. Other options have been designed for maintaining structural integrity, privacy, fire safety and other important needs. The doors are meant for serving important purposes and most of them are suited for outdoor and indoor uses. They can be installed in ceilings or walls and many of them are featured with concealed hinges, recessed frames along with flush latch releases which prevent them from interrupting the surfaces where they are installed.
Dutco Tennant LLC is one of the leading suppliers of various kinds of industrial and engineering solutions in the Middle East and GCC region and our offered solutions range from construction to networking to electrical. We have been working closely with a list of high-status corporate and government agencies and for the last four years, we have taken an active part in the infrastructural development of numerous schools, colleges, airports, shopping malls, networking infrastructure, hospitals, hotels, universities, offices, etc.
We uphold high standards of performance as we want to establish a long-term and competitive position in the market in which we operate. We believe in punctuality and quality and we never compromise with those aspects. Apart from this we also keep keen attention towards environmental awareness and societal responsibilities.
We believe that every customer can have diverse and unique needs for their projects. These demands are always evolving with the advancement of time as newer technologies are coming to the surface every day. We value all of our customers and always try our best to meet their demands. For this reason, we are constantly growing and actively collaborating with various contractors and manufacturers worldwide to bring in the best solution possible.
We provide our deepest concentration for each and every project. We have introduced a team of qualified experts who have deep knowledge about their fields and are always available to help our customers to choose the right solution for their needs.
Our wide range of products covers almost every aspect of industrial and engineering needs and we are trying to add more and more products every day into our inventory.
Our products are divided into some broad categories known as business units. In these business units, we sorted our products based on their types and applications.
Section Construction Specialities takes care of the products which are necessary for construction and architectural requirements.
Access Door gives easy access to mechanical, electrical and plumbing fixtures behind a wall. Our access doors are ready to meet every specification that you need gives service access to all types of walls and ceilings. You have the privilege to choose the sizes, materials, and colors. We provide architecturally & renovation access door, insulated & uninsulated which comes as fire-rated as well as non-fire rated that can be used both in exterior and interior with different security options. The access panel can even bebuilt with a special feature that can accommodate tiles and architectural finishing products to give a very eye-catching look.
Features
Multi-purpose panel
Steel, powder coat white
Wall or ceiling application
Latch and lock options
Variants
Standard Access Doors
Fire-Rated
Security
Specialty