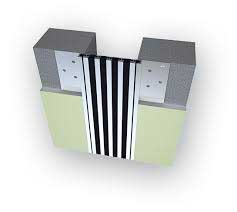 Flush Mounted Wall & ceiling profiles feature static and resistance calculations and resist pressure and friction. Existing in different standard expansion joints product range such as "Heavy duty profiles" for truck and/or forklift crossing areas, "watertight profiles" for the areas with water leakage risk and "seismic profiles" with high movement capability for earthquake zones, these products are highly demanded in the global market.
You have the option to choose from our varied flush mounted profile seals available in different colors and sizes. All profiles have corner types and most of them have floor & wall twain. For interiors that are large and there is desired to be minimal visibility, the use of flush-mounted wall and ceiling expansion joints is suitable. The unique panel attached design makes way for thermal expansion and this disengages while seismic events for preventing damage to the surrounding walls. These covering systems can be primes in the factory and for matching almost any type of walls or finishes of ceilings can be filed painted. The expansion joints systems are mounted over the ceiling or walls over the tile, coating, plaster and plasterboard surface inside commercial buildings like shopping centers, commercial buildings and business centers. They are mostly composed of EPDM rubber and aluminum. Anchorage is needed to be applied every 40 cm over the profile. The expansion joint covering systems can protect the structural gap which has been designed for accommodating the building movement in a controlled way for preventing damages to the finishes of the building. It will stay unaffected by the relative movement of the two surfaces on either side of the joint and offer a smooth transition over the opening of the expansion joint.
These joints are important to the building as it offers some flexibility when the movement happens due to the settlement, thermal, seismic activities or sway of the wind. The joint width or the gap can vary depending on the geographical location of the building and the building's height. The gap will get bigger as the building becomes higher. Dutco Tennant LLC is here to offer you a wide range of Flush Mounted Wall & Ceiling Profiles from the biggest manufacturers in the world. You can find an exceptional range of solutions that will suit your requirements perfectly and fit as per the condition of your site.