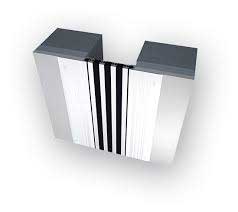 Surface-mounted wall & ceiling profiles feature static and resistance calculations and resist pressure and friction. Existing in different standard expansion joints product range such as "Heavy duty profiles" for truck and/or forklift crossing areas, "watertight profiles" for the areas with water leakage risk and "seismic profiles" with high movement capability for earthquake zones, these products are highly demanded in the global market.
You have the option to choose from our varied surface-mounted profile seals available in different colors and sizes. All profiles have corner types and most of them have floor & wall twain. Surface Mounted Wall & Ceiling Profiles have been designed to be applied in the interiors where there is desired to have low maintenance along with tamper-resistant applications. The joints and slides are spanned over the surface of the ceiling or wall by the free-floating aluminum center plate for allowing movement whenever desired. The cover can be painted for matching almost any type of finish and can be found in several metal finishes. Our offered wall and ceiling joints can be adaptable for several walls finishes like tile and drywall. They have clear anodized standard cover plates which can be primed, wallpapered or painted for surface mounting installations and renovation.
For all your needs of an advanced range of Expansion joints in UAE, you can get in touch with Dutco Tennant LLC. We are the biggest supplier in the region.