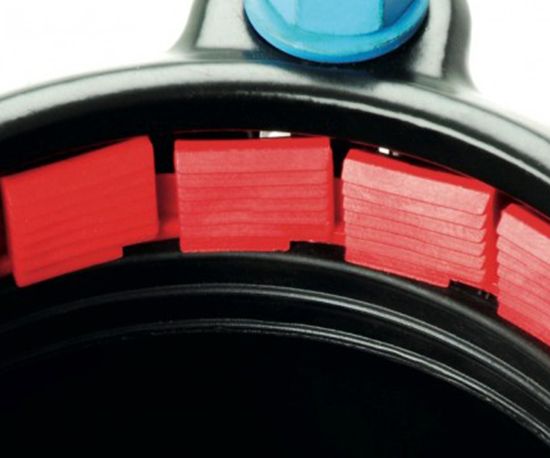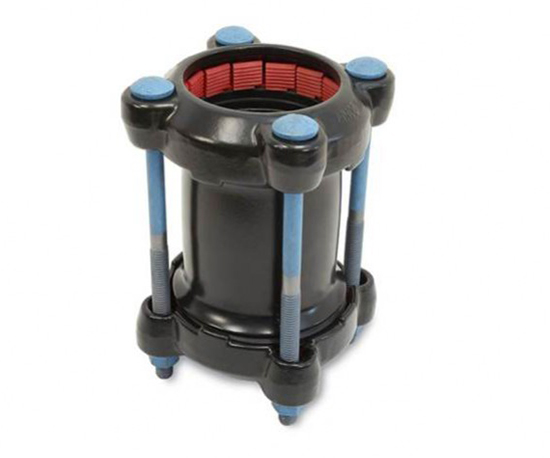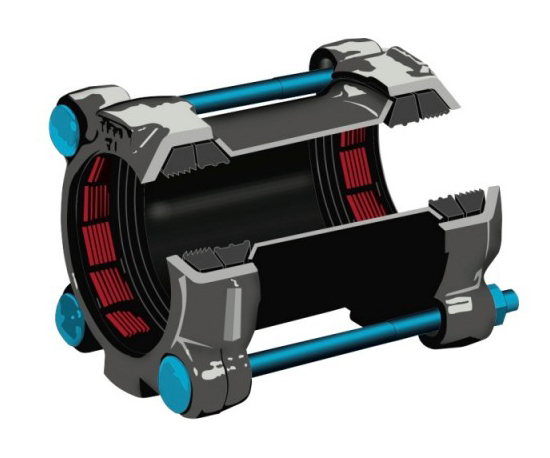 As a response to the demands of high performance, simple end load restraint mechanical method of joining polyethylene pipe, the AquaGrip range was developed. These products are designed for supporting and gripping PE pipe for preventing the collapsing of pipe and pullout. The system features a pressure responsive sealing system along with a visual indication of proper tightening. A leak-tight seal is assured by these features even after the relaxation of the pipe wall. When the bolts are tightened, then the end ring can push the intermediate and gripper ring towards the end of the connection. This mechanically forces the double O-ring seal into the compression. Adding to that, integral channels have been built into the connection for allowing line pressure behind the O-ring which allows hydrostatic pressure for assisting to offer a positive seal.
Without any special tool or skill requirement, the range can be fitted with the help of a suitably calibrated torque wrench. The capability of rotating the flange bolt holes and the compact, lightweight design offers an easier handling and quicker installation. These couplings can be installed under wet conditions without shelters and also underwater. It is ideal for spot repairing and there is no need for fusion jointing in case of any unexpected problem. Once they are fitted, the product range offers axial restraint and is designed and tested for meeting the full type 1 performance requirements of WIS 4-24-01 in all sizes up to 450mm. On larger sizes, the full type 2 performance is achieved. It has been designed to exceed or match the pressure capabilities of MDPE (PE80) and HDPE (PE100) pipe and with Rilsan Nylon coated body and clamp bands, it has total protection from corrosion.
Product Features
Easier to repair on existing pipelines because of the slip-on coupling without obstruction or center stop.
No requirement for dismantling products for installing.
As there are bolts of the same size all over the range so you will just need one torque wrench for all pipe sizes.
Substantial axial pipe adjustment up to 50mm is ideal for making valve and pipe insertions into existing lines. You will not need the precise cutting of the pipes or machined pipe ends.
The AquaGrip range has been tested and has been found to comply with the needs of the Water Supply (Water Fittings) Regulations.
They are supplied with complete liners for PE pipes.
As the body is completely coated with Rilsan Nylon 11 that has amazing resistance to abrasion, impact, weathering, and chemicals along with very good thermal stability and flexibility for accommodating rough site handling.
Excellent corrosion resistance is offered by the Sheraplex coated bolts and nuts which also takes away galling of coating in threads which allows repeated dismantling and installation of products if needed.