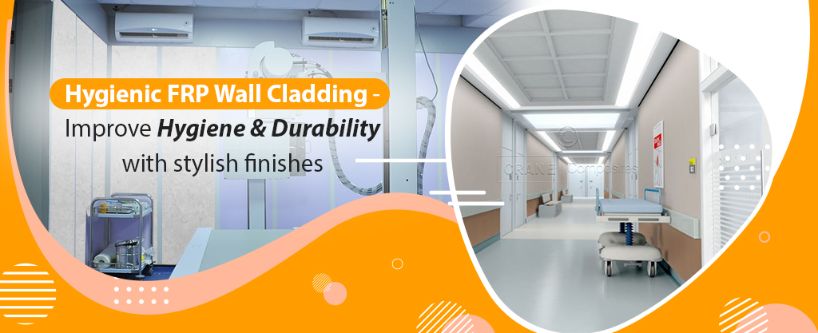 HYGIENIC FRP WALL CLADDING
Hygienic FRP Wall Cladding - Improve hygiene and durability with stylish finishes
The current global pandemic situation triggered by COVID-19 has led to the world to provide a more in-depth focus on the hygiene and cleanliness of ourselves along with our surroundings.Among several negativities of this present situation, what have actually immerged as a small ray of positive vibes is that there is so much less pollution now, nature is back and most importantly the entire world is focusing on the hygiene and cleanliness.
In essential places like hospitals, laboratories, and public kitchens, it becomes very much important to provide concentrated attention to the cleanliness and hygiene factors. As these are sensitive areas that are visited by numerous people daily from various backgrounds and many lives are dependent on these places. A great solution to increase cleanliness and hygienic environment in these places are by installing Hygienic FRP Wall Cladding. Now, what are these FRP Wall Panels and why should you use them? Let us break it down for you.  Walls and ceilings are the most common areas in any facility where dust, bacteria, and viruses can remain and this makes it important to provide a protective layer over them. FRP or Fibreglass Reinforced Plastic (FRP) is a composite material system consisting of a plastic resin matrix, glass fiber reinforcement, and other additives. It has several astounding properties when it comes to strength and weight ratio and acts as the best choice compared to traditional wall protection layers. They do not shatter and provides high chemical resistance. FRP Wall Cladding permits higher design flexibility which was not possible previously due to the limitations of traditional building materials. These sheets can be installed by using adhesive and can be laminated to a wide range of substrates for modular installation or cut into ceiling tiles. They provide the ideal solution where a high impact, hygienic, easy to clean surface is required. FRP is renowned for being strong, non-corrosive, lightweight, and maintenance-free. They can be erected efficiently and economically.
We at Dutco Tennant LLC supply the exceptional Hygienic FRP Wall Cladding range from CRANE Composites to the Middle East. They are the world's leading manufacturer of premium Hygienic Wall Cladding and Ceiling tiles made from FRP. Crane Composites FRP wall panels combine expertise in composite material science, process, and technology with a deep understanding of End-user needs to deliver innovative products that outperform traditional building material such as Ceramic, Paint, PVC wall cladding & Acrylic panels, metals and woods. Their extreme lightweight and composite range deliver unsurpassed strength, Hygiene, and durability because of its superior sanitary features that include - resistance to mold, mildew, bacteria growth, high impact strength, high moisture resistance, chemical resistance, will not rot or corrode, stain resistance, sanitary finish, low maintenance cost, and easy installation. They meet the requirements of USDA/FSIS (The Food Safety and Inspection Service) and are available in Class C and Class A fire rating for flame spread and smoke development when tested as per ASTM E-84 and it is Dubai Civil Defense approved (DCD) for both Class A and FM Global. It is also known for GREENGUARD "Children & Schools" and GREENGUARD "Indoor Air Quality" certification. Crane has continued to pioneer numerous patented technologies in the FRP industry and provide today 3 brands: Glasbord®, Varietex® and Design® for both Back of House (BOH) and Front of House (FOH) application in both industrial and commercial facilities
Install them today for your facilities and enjoy high levels of hygiene, safety, and durability with stylish finishes at the same time. Contact us for more information.
Get a Quote