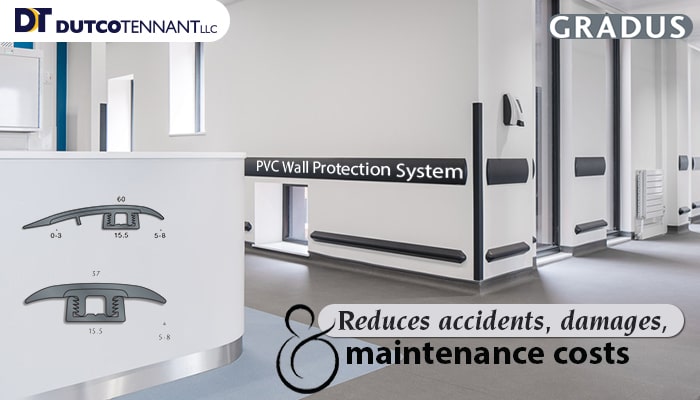 WHY ARE PVC WALL SYSTEMS COST EFFECTIVE IN COMMERCIAL SETTINGS?
During the design of a building, an important thing to consider is wall protection. With the ever-growing population of the modern era, fast-paced world and rushed lifestyle, the sustainability of spaces and buildings have become very much essential. A building becomes a functional space, as soon as it is occupied and with that wear and tear begins. Throughout the building, damages like scraping to chips, scuffs, severe break, and cracks or indentations start to occur on the corners, walls, and doors. Buildings that have higher traffic like education, hospitality, commercial, public buildings, and others are exposed to severe levels of wear and tear all around.
PVC Wall Protection is one of our most valued offerings which reduces the risks of accidents, stops the damages, and also helps in reducing the costs of mending and maintenance of the properties. With long-lasting PVC covers that are attached to the aluminum retainer, these systems have been designed. Apart from providing protection features, they also add a decorative aspect to the place. These wall protectors, corner protectors, and wall corner guards are available in several color options. All of our supplied products have been certified for fire and impact resistance. They are also antibacterial. PVC or Polyvinyl chloride is a great choice for several rooms like toilets, kitchens, bathrooms, and all medical or laboratory settings in commercial buildings. There are also many desirable features in PVC that includes waterproofing, easy maintenance, sound resistance, fireproofing, rustproof, and others. Many people opt for Polyvinyl chloride mainly who own commercial structures for these qualities, and also as it beautifies the interior of the building. It has a slick and sleek design and is easy and modern. PVC can be used as interior wall ceilings or panels covers or for both.
Why Is Polyvinyl Chloride A Cost-Effective Solution In Commercial Settings?
Easy to install
They offer a very easy installation process. It is very user-friendly for installing because it is lightweight. If you want to compare PVC with the tiles, PVC takes less time for installing. When you are buying PVC panels, you will be able to save both time and money compared to tiles. Polyvinyl chloride panels can also be horizontally installed and vertically depending on the look which you are looking for.
Inexpensive
You don't even need to think about the price because they are cheaper when compared to tiles. PVC will save you time and money. It also has a very updated look.
Low maintenance
Water is not absorbed by PVC which means that you will not require to perform frequent performance. If with the PVC any dirt comes into contact, then you can easily remove it with water and a piece of cloth. PVC is tough and it lasts for a long time. Over the period of time, water and dirt will destroy drywall but the PVC wall will still have the new looks. Your present expenditure on staff cleaning the walls in your commercial setting will get hugely decreased with PVC walls.
Dutco Tennant LLC is a renowned provider of PVC Wall Protection System in the Middle East and Gulf region. We have been in this business for the last forty years and served a number of clients for different projects in & around Saudi Arabia, U.A.E, and other GCC countries. With us, you will find a number of solutions and you can choose the one which matches your application and requirements. We can offer you the PVC corner protectors which are attached to the aluminum retainer which adds a protective layer and decoration too. We also offer the PVC Corner Guard cover used to protect the wall corners from further damage and also the PVC Handrails & Crash Rail designed to safeguard the risky walls and give it a good appearance. For more details, call us today.
Ensure to submit your remarks related to PVC Wall Protection Systems
Get a Quote