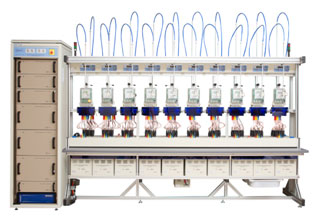 Universal Meter Test system for simultaneous testing of 20 meters Single phase and Three Phase Energy Meter
ASTeL 3.24-20 type; 0.04% accuracy class
ICT (Current separation transformer) enable testing of meters with internally closed IP links.
Capable to measure all kinds of electricity meter 2 wire, 3 wire and 4 wire and of accuracy class 0.2,0.5, 1 and 2
Any number of meters (between 1 and 20 can be tested at the same time).
Scanning head for automated reading of both mechanical and static meter and also optical gead for data retrieval
Bar code reader for automatic input of meter numbers upon scanning.
Additional 20 meter rack can be provided at extra cost on a later date if required,.
Voltage Output 3 x 30 to 350 V; Current Output 3 x 1mA to 200 Amps; Output frequency 45 to 65 Hz; Phase angle 0 deg to 360 deg
Accuracy test in all four quadrants (active, reactive and apparent energy) ; No-load test (creep test) ; Starting current test; Register test (dial test) ; Meter constant test ; Pulse input and output test; Influence quantity test (voltage, frequency, harmonic distortion, etc.); Calibration of reference standard having lower accuracy than the employed reference standard; Pre-warming; Dips & interruptions; Ripple control
Windows 7 operating system with backup provision, 2GB RAM, 1TB HDD, DVD , 20" LCD,
Remote assistance from manufacturer.