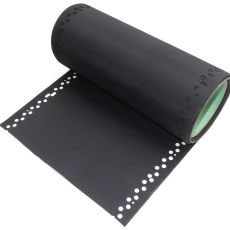 Expansion Joint Sealing Tapes features static and resistance calculations and resist pressure and friction. Existing in different standard product range such as "Heavy duty profiles" for truck and/or forklift crossing areas, "watertight profiles" for the areas with water leakage risk and "seismic profiles" with high movement capability for earthquake zones, these architectural finishing products are highly demanded in the global market. You have the option to choose from our varied profile sealing tape available in different colors and sizes. All profiles have corner types and most of them have floor & wall twain. Our supplied self-adhesive, bitumen compatible expansion joint sealing tape comes with a synthetic rubber base and has reinforced glass fabric liners in the outer edge areas. Joint sealing tape supplied by us is not reinforced within the expansion zone. The underside comes with a self-adhesive, polymer-modified bitumen layer which is protected with a detachable releasable film. We have created a unique product for further developments of the special challenges which are encountered within the cross and T-joints.
In various sectors of the construction trade, water-impermeable concrete structures can be found whose expansion and constructions joints are needed to be professionally sealed. These joints can be sealed in varied ways. Our supplied state of the art extremely tear-resistant expansion joint sealing tapes can prevent the passage of moisture and water via the concrete cracks and joints. They are available in various widths.
Applications –
Flexible waterproofing sealing for expansion joints which can face a huge number of movements in the service
Flexible seals for waterproofing in road-works, tunnels and others.
Sealing expansion joints can be used in prefabricated panels.
For sealing structural joints in facades, they can be used.
Sealing the joints in hydraulic works.
Waterproofing the expansion joints in flat covered layers.