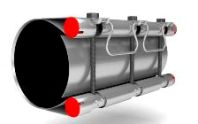 Dutcotennant offer you to provide various types of pipe reparing clamps.
Repair Pipe Clamps made pipe repair quick & easy. Process of repair :
Wrap clamp around pipe. Bring together using locking washer plate.
Lock in place. Squeeze the lugs together and spin the nuts down.
Tighten the nuts evenly working from the outside to the inside with a wrench. Detailed instructions are attached to each clamp.
Features
Easy to use
Easier to attach Repair Clamps to pipe
Compact tool size
Materials resistant to wear
Able to handle harsh environments
Easier to slide Repair Clamp into place over leak