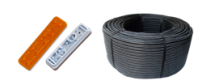 We are supplying pressure compensating driplines which comprise of 100' and 250' rolls of dripline along with 1-GPH pressure compensating (PC) drip emitters which are built into the interior wall of the dripline every 12" and 18". Of a cylinder along with a labyrinth-like water passage, silicon diaphragm, and a filter, each PC drip emitters are comprised. Each of the PC drip emitters can constantly adjust with the varying incoming water pressures that can range from 10 to 45 PSI and ensures a continuous flow rate that has no regard for any elevation along the dripline. On top of that, the self-flushing mode of the drip emitter can allow the particles to harmlessly pass via and also offers amazing performance along with long service life. The drip line can be installed above the ground for residential and commercial applications and if needed, users can cover it with mulch for blending with the landscape. The PC dripline is ideally suited for plants in preset spacing, narrow planting along with groundcover, closely spaced plants in rows, hedges, roses, and shrubs. For the entire coverage of an area, you need to use various dripline lines. Just place the lines at a distance of 16 to 24 inches and adding to that, the dripline can be used around a house foundation to reduce the movement of the slab, soil, and cracking damage.
Features & Specifications
Use for roses, groundcover, shrubs, plantings in narrow areas, vegetable gardens, or loops around trees.
Can be used for residential and commercial applications.
No requirement for special tools or glue.
A large labyrinth water passage reduces clogging.
Designed to be placed in both existing and new landscape areas like green-roof areas.
Ideal for installing on tough terrains like oddly shaped areas, slopes, and windy sites.
Comes with a flexible tube for easy installation.