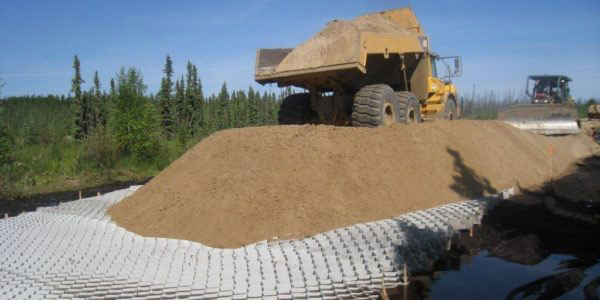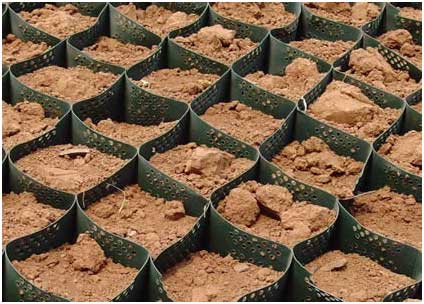 A 3D cellular confinement Geosynthetics system is a honeycomb geocell structure created by the 3D interaction of soil, cell walls and geometry. Geocell cellular confinement system maintains soil compaction, thereby increasing the structural strength of the infill and pavement layer.
The key geocell reinforcement mechanisms are lateral and vertical cellular confinement, beam effect and improved load distribution. When the confined soil within a geocell is subjected to loading, it causes lateral stresses on the cell walls. The 3D zone of cellular confinement reduces the lateral movement of soil particles while vertical loading on the contained infill results in high lateral stress and resistance on the cell-soil interface.
The high-strength geocell mattress , acts as a flexible beam, which reduces stress and settlement. In addition cellular confinement increases the elastic modulus values of granular infill materials, particularly marginal fill, such as fine granular soils and recycled materials.
Benefits
Key Advantages – high elastic stiffness, low creep, high tensile strength
Improved Load Distribution
80% less rutting
70% saving in granular infill
Enable use of marginal soil for infill
x5 Improvement in Asphalt Layer
35% less asphalt
35% savings in base/subbase layers
Enables use of RAP for infill
Improved Modulus of Adjacent Layers – x7.6 Jump
transfers vertical forces to hoop stresses and by passive resistance.
Proven Results – supported by 55 published papers.
Applications
Road Base Reinforcement
Railway Track Reinforcement
Heavy Loads Platforms Stabilization
Slope and channel erosion protection
Earth stabilization and retaining walls
Landfill & Reservoir geomembrane protection