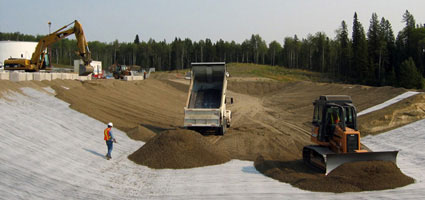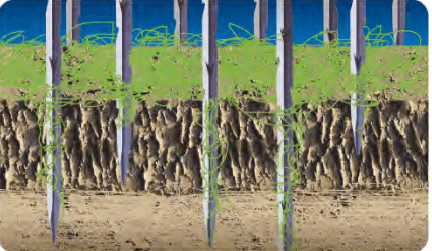 Innovative Geosynthetic clay liner which may be used as waterproofing barrier. This clay liner is self-attaching and self -sealing to concrete or other construction substance. Made of a non-woven geotextile and a polypropylene sheet, these products are available in the Middle East and GCC.  You can use this product to avoid slippage and the buildup of bentonite as a consequence of cuts, tears, and movements. Its performance can meet or exceed various national and international standards.
Geosynthetic Clay Liners:
Geosynthetic clay liner in our stock has been manufactured by using two contrasting material such as polymeric materials and natural soils. Additionally, our range is used in rolls of fabricated thin layers of bentonite clay. Plus, they are far and wide appreciated by our clients for their competence and tensile strength. Quality liner available in various specifications as required by the clients is available with us. Furthermore, we offer this Geo synthetic clay liner at very competitive price.
The Geosynthetics is an important business unit of Dutco Tennant LLC which is a leading supplier of Geosynthetic clay liners for decades. We offer a complete range in engineered environmental liner systems for roads and utilities. Apart from providing good quality products, we provide unmatched engineering support.
The technical staff at out office is expert in specification review, and based on requirement we can offer various assistance. In addition, we maintain a full record of our supplies to help you on your next project. Make bigger successes by going beyond traditional lining technologies and finding out how we can help you with superior Geosynthetic clay liners.
GCL Performance
With Geosynthetic Clay Liner, the clay component is no longer the limiting factor on side slopes. You can use Geosynthetic Clay Liner to replace compacted clay layers on steep side slopes and be assured of low permeability without sacrificing slope stability. The inherent confining stress from the needlepunching also maintains the hydraulic properties of Geosynthetic Clay Liner under low confining stress applications.
Assured Quality Control
Because Geosynthetic Clay Liner is a factory manufactured liner product, the regulated environment of the production facility allows for greater control over critical performance characteristics. The intensive quality control programme ensures consistent hydraulic and physical properties through the latest EN-ISO and ASTM procedures. The thorough manufacturing quality control minimises the expensive and time consuming onsite quality assurance testing, which is required for compacted clay liners. Geosynthetic Clay Liners provides consistent high quality performance..