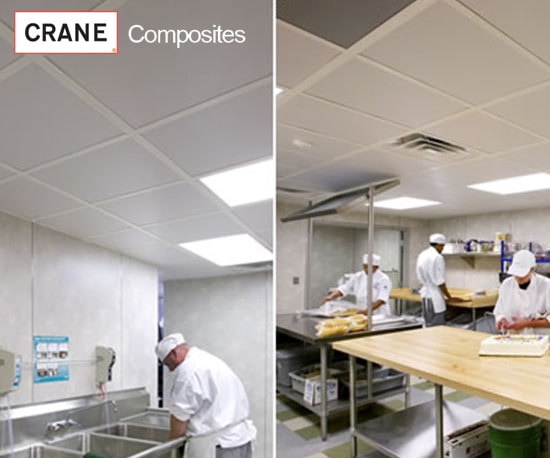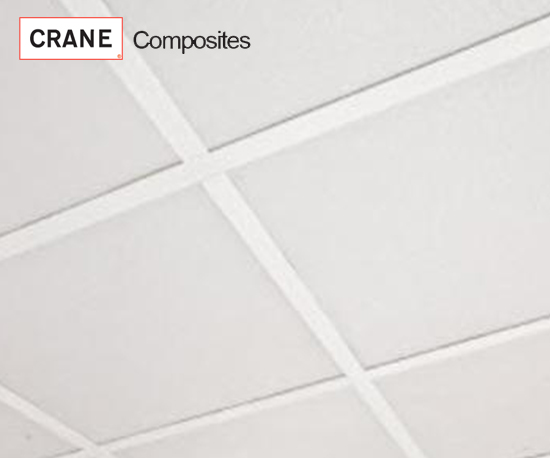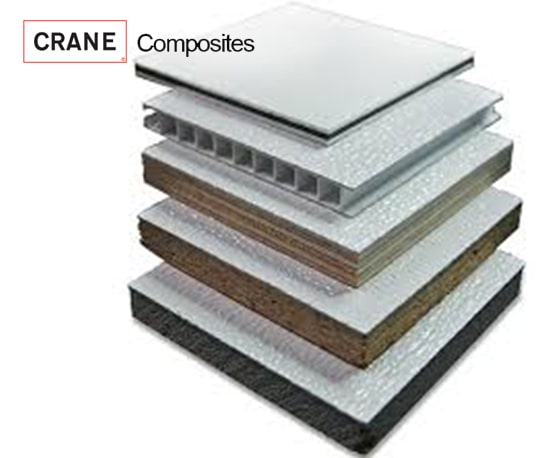 Hygienic and Moisture Resistant Ceiling Grid System
For ceilings with superior dependability, one product rises above the others. Crane Composites fiberglass reinforced plastic (FRP) Sanigrid® Hygienic Suspension System is the ideal sanitary ceiling solution for high humidity and chemical environments.
Count on Crane Composites Ceiling Grid System for its moisture and corrosion resistance, a surface that won't rust, pit, dent, bend or peel and easily cleanable ceiling system.
Sanigrid® Hygienic Suspension System uses a series of pre-notched main tees and cross members to lock in the grid. It allows for fast installation, with the entire system easily snapping together. No matter which Crane Composites ceiling tiles you select, the end result is a simple, sanitary solution that's designed to last.
Ceiling Tiles:
Glasbord Ceiling Tiles:
Our Glasbord® Panels, with patented Surfaseal® finish, comes also in ceiling tiles with a thickness of 2.5mm for both Class C and Class A. Glasbord is up to 10 times easier to clean and up to six times more stain and moisture resistant than traditional FRP systems, Aluminum or Gypsum.
Glasbord Ceiling Tiles comes Embossed in Class A or Class C Fire Rating per ASTM E-84 (FX, CGI). The thickness is 2.5 mm and comes in 2 panels size: 60cmx60cm or 60cmx120cm
Kemply® panels:
For added structural strength, you can choose our Kemply® panels lay-in ceiling panels, which are fabricated by laminating a Glasbord® panel to a rigid substrate.
With all the durability and hygiene benefits of our Glasbord products, Kemply® panels are just as easy to install. The Sanigrid® Hygienic Suspension System will not get rust, dent, pit or peel off like metal grid systems and they are very easy to install. The new FRP Wall Panel utilizes a wide number of pre-notched main tees along with cross members for locking the grid together. The entire system gets snapped together very quickly for installing faster.
Available Substrate and Thicknesses:
Gypsum- 12.7mm | 15.8mm
Plywood –9.5mm | 12.7mm | 15.8mm | 19mm
Oriented Strand Board– 9.5mm | 12.7mm | 15.8mm
Fluted Polypropylene– 8 mm | 10mm
Double Sided ACP Core– 3mm | 6mm.
&nbsp>

Application Areas –

Chemical Processing Plants
Food Processing Plants
Refrigerated Warehouses
Restrooms
Commercial Kitchens
Sanigrid® Features
Highly moisture and corrosion resistant
Surface won't rust, pit, dent, bend or peel
Recommended for high moisture and wet areas.
Completely washable.
Application Areas
Food Processing Plants
Chemical Processing Plants
Refrigerated Warehouses
Commercial Kitchens
Laboratories
Car Washes
Indoor Swimming Pools
Clean Rooms
Finishes
Description
Sanigrid II Hygienic Grid System
Class C Fire Rated Class C FRP tiles – 2.5mm
Class A Fire Rated Class C FRP tiles – 2.5mm
Kemply Ceiling tiles with ACP