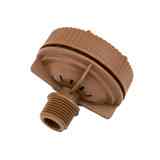 The flush valves are used conventionally for flushing the lines of a drip system automatically at the beginning of each irrigation cycle. They have been installed at the very end of each drip lateral or drip line and they release approximate one gallons of water, every time the zone is powered on. The maintenance of your irrigation systems can be reduced with increased dripline performance. For periodic flushing of the irrigation system at the start and end of every irrigation cycle, they are used. A very small amount of water is passed through at the start and end of every cycle. During the installation of an automatic flush, the valve is needed to be ensured that it is covered with an 8" irrigation box. It is advised to observe the flushing operation after the completion of the installation for making sure that each valve is flushing properly and then for repeating this observation at the start of each irrigation season. The pressure needs to checked and compared to the lateral maintenance inspection.
Features
Flushing Reduces Sediment Build-Up :Eliminates clogging. Promotes long-term performance of the drip irrigation system.
Automatic Cleaning Operation : Eliminates periodic manual flushing.
Unique Design Reacts To Flow, Not Pressure : Allows operation even at full line pressure.
Disassembles For Winterization "Blowout" : Protects your drip system.
Application
Can prevent backflow of drainage and water of the system into low areas
Takes out the requirement for a system water refill at the start of the next irrigation cycle
For irrigating slopes where draining of the laterals and headers are common
In the Middle East and GCC market, Dutco Tennant LLC has earned an honorable position and is recognized as a trusted supplier of several types of industrial and engineering solutions. We are known by the customers because of our uncompromised service and punctuality towards time and also as a company that can always offer the best solutions for all your demands. For over the last four decades, we have been working with several private and public sectors and have been working behind the infrastructural development of several nations. Our ongoing and completed projects include airports, exhibition centers, shopping malls, networking infrastructure, hospitals, hotels, universities, schools, industrial plants, etc.