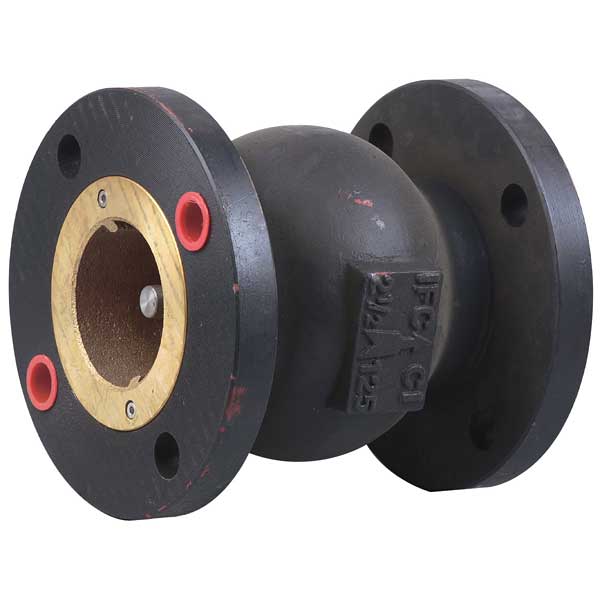 For industrial and commercial HVAC applications, the silent check valve - ductile iron is highly preferred for preventing reverse flow of fluid and water hammer for water lines. They are having a conical spring design which helps the enclosure of the disc for traveling much more distance compared to the other types of valves of this style. This makes way for a higher coefficient of flow. The valve is featured with a cast iron body having a disc of bronze, bushing and seat along with stainless steel spring and set screws.
The silent check variants are also known as non-slam variants and the water hammer and its effects are reduced by spring-assisted check valves. Water hammer is the high-pressure shock wave that occurs when the fluid flow gets stopped abruptly inside a plumbing system. During water hammer, the resulting reversal flow offers severe stress over the piping system which puts in danger the structural integrity and opens it up for potential damage and rupture. Swing Check Valves often contribute to the problems of water hammers. Usage of Silent check valve - ductile iron is recommended for controlling the reversal of flow and water hammer. With the movement of the source, the fluid gets shut down and the fluid flow in the forward direction gets decreased. Prior to the reversal of the flow, the specifically designed stainless steel spring works for controlling the closure of the disc of the valve. This assistance of spring ensures that the valve does not get slam shut and the occurrence for the water hammer gets taken out. Our complete line of spring-assisted valves can be found custom-sized depending on the requirements for specified applications and can be used in both vertical and horizontal gas, liquid and steam applications. The wafer-style models are silent and designed specifically for preventing reverse flow and water hammers. These are compact and lightweight and can meet are the necessary regulations. They can be used for a wide range of industries and applications.
Dutco Tennant LLC bring the most innovative technology for valves for the first time in the Middle East. These valves are having short length having all the internals which are designed hadronically. Our supplied range of silent check valve - ductile iron has been tried and tested to offer you the most reliable performance. For all your plumbing project requirements, call us now.
Features
Cast Iron Body
Flanged end connections
Conical Spring Design -allows the closure disc to travel more distance than other valves of this style
Technical Data
| | |
| --- | --- |
| Maximum Pressure | 200psi (13.8 bar) CWP (non-shock) |