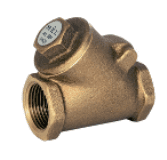 The swing check valve – bronze is used for preventing reverse flow of fluid in steam and water applications. They are featured with end connections of threads, metal-to-metal seal with a bronze body. These valves have been designed for preventing the medium present in the pipeline from getting flown back. When the pressure becomes zero, the valve gets completely shut for preventing any type of backflow. These valves are automatic type valves that are used mostly inside pipelines where the medium mostly flows in one direction and allow only the medium to flow in one direction for avoiding accidents.
In these valves, the drop in pressure and the turbulence is very low. They are generally installed horizontally over the pipeline but can also be vertically installed by keeping in mind the failure of the disc to the stalling positing where the disc gets stuck inside an open position. Swing check valve – bronze takes up a built-in swing rocker structure. All of the opening and closing part of the valve is installed inside the body of the valve and do not penetrates the body of the valve except for sealing the gasket and the sealing ring for the middle flange and there no point of leakage as a whole which prevents the possibilities of leakage of the valve. The arm for swing connection among the swing check valve clack takes up a spherical structure connection so that the clack of the valve comes with a certain degree of freedom within the range of 360 degrees and there comes an appropriate trace position compensation. While moving downstream, the flow of medium rushes via the flap valve and opens it up. The pressure at which the valve opens up is known as cracking pressure. The valve shuts down automatically when the pressure of the medium falls under the cracking pressure.
Our supplied range of swing check valve – bronze is having a Y pattern design which comes with a disc and renewable seat. These valves can prevent the backflow by closing down automatically when the direction of the fluid gets reversed. This comes featured with a screw in the bonnet for being easily accessible for replacement or repair. These valves are recommended for industrial and commercial stream service. Get the finest range of Swing Check Valves in the Middle East suited for all your plumbing needs from Dutco Tennant LLC.
Features
Available in Screwed BSP Taper (ISO 7/1) or NPT (ANSI B1.20.1)
Bronze Body & Disc
PN20 Rated
BS 5154 (BS EN12288) / MSS-SP-80
WRAS Approved
Technical Data
| | |
| --- | --- |
| Max Pressure | 20 Bar |
| Working Temperature | -10°C to +180°C |