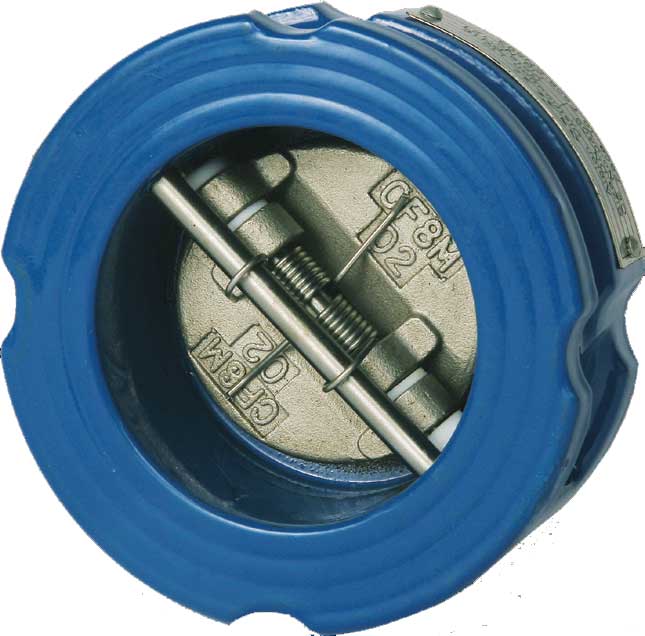 In industrial and commercial HVAC applications, for prevention of water hammer and reversal of the flow of fluid in the water lines, dual plate check valve - ductile iron are used. They are featured with a body made up of cast iron having stainless steel or aluminum-bronze plates, PTFE bearings, EPDM seat, stop pins and stainless-steel hinge, springs made up of stainless steel and steel plug.
The Check Valves having dual plate is an all-purpose non-return valve which is much lighter and stronger in weight with being smaller in size when compared with traditional swing check valves or lift check valves. The design of these valves reflects the result of the various attempts for solving the problems which are connected with the swing check options and lift check valves. Two spring-loaded plates are employed by the Dual Plate Check Valves which are hinged over a central hinge pin. With the decrease of the flow, the plates get closed by torsion spring action without needing any type of reverse flow. This design offers double advantages of Zero Water hammer along with simultaneous Non-Slam. When all the features are put together, they make the Dual Plate Check Valve one of the most suited designs. They are also known as Silent Check Valves. Dual plate check valve - ductile iron are having a cylindrical body that makes the valve look like just another type of pipe fitting. A body of cylindrical shape comes with a much more uniform stress distribution when distinguished with a traditional swing check variant. The cylinder-shaped body of the part which contains the pressure of the valve can be designed for withstanding extreme much to the valve's weight. So, for rugged load conditions, they are having a distinct edge for conventional valves both in cases of economics and safety apart from the general versatile features. The design is made hydraulically and is therefore very much versatile. In installations of horizontal cases, the weight of the plate does not affect significantly in the opening or closure of the valve which is unlike the traditional range of valve in which the closure is affected by gravity.
Our supplied range of dual plate check valve - ductile iron is tried and tested and has all the necessary certifications of regulations. If you are looking to get your hands on them in the Middle East then call us. We can guarantee you the most suitable range of valves for plumbing projects.
Features
Universal Flange Mounting PN10 PN16 ASA150
Epoxy Coat Finish
Technical Data
| | |
| --- | --- |
| Maximum Pressure | 16 Bar |
| Working Temperature | -10°C to +120°C |