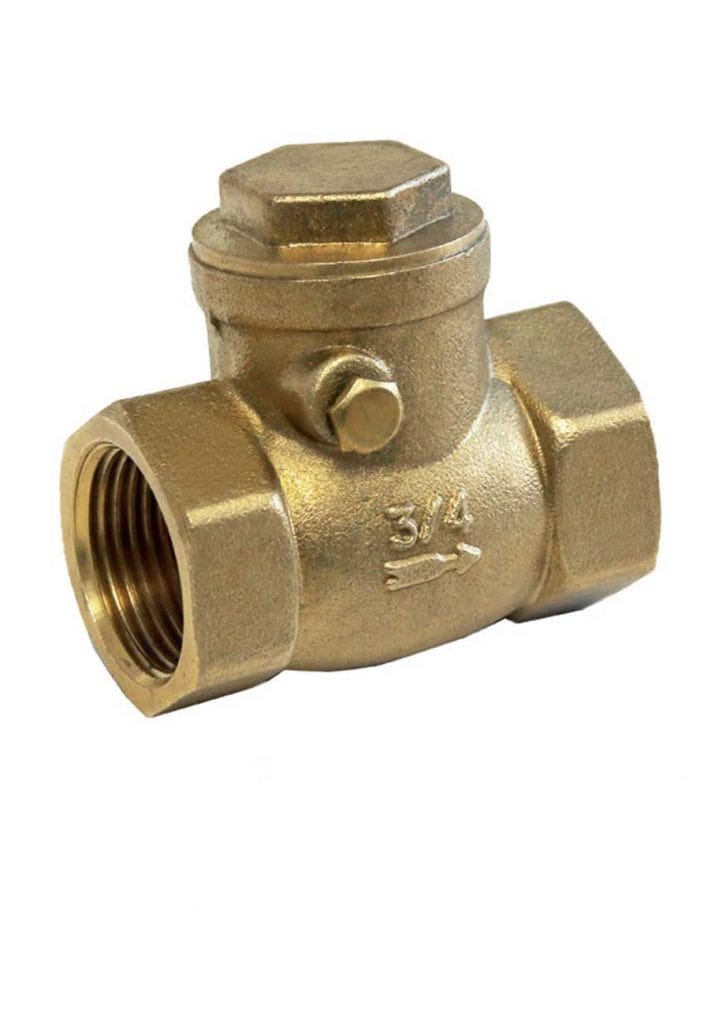 The reverse flow of fluid in steam and water applications is prevented by Brass Swing Check Valves. This series comes with a metal-to-metal seat which is either solder-ended or threaded along with a brass body.
Check Valves open automatic with forwarding flow and get closed with the reverse flow. The pressure of the fluid which passes via the system can open the valve while any flow reversal will close it down. The exact operation mostly varies depending on the Check Valve mechanism type. Swing check valve – brass comprises a bonnet, a valve body along with a disk that stays connected over a hinge. The disc keeps swinging away from the seat of the valve for allowing flow in the forward direction and then it returns to the valve seat when the upstream flow gets stopped for preventing the backflow. The disc inside a swing check valve remains unguided as it completely closes or opens. There are several seats and disc design available which can meet with the requirements of various applications. The valve makes way for complete unobstructed flow and with the decreasing pressure, it closes automatically. When the flow goes to zero, the valve gets completely closed for preventing the backflow. The drop of pressure and turbulence in the valve is very less. Swing check valve – brass can prevent the backflow automatically when it gets closed with the reversal of the direction of the fluid. These types of valves can be installed in horizontal positions. Featured with end connections that are threaded for easy installations, they are suited for a varied range of options. The lead-free Brass Swing Check Valves can prevent the flow of fluid in the reverse direction in steam and water applications. The series is having metal seals having either threaded NPT or end connections of solder in various sizes. They can offer automatic closure and low-pressure drip when the flow of fluid is stopped.
Dutco Tennant LLC supplied an advanced range of swing check valves – brass which is activated by the flow. They are having optimized shape disc and inlet ports for achieving a completely open position at flow rates that are low. Get in touch with us for all your requirements.
Features
Screwed BSP Parallel
Brass, bonnet body
Metal Seat
Brass Disc
Technical Data
| | |
| --- | --- |
| Max Pressure | 20 Bar |
| Working Temperature | 0°C to 110°C |