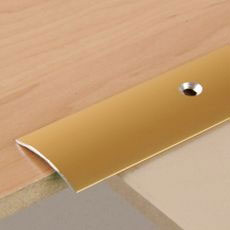 Threshold profiles are manufactured from Aluminum or PVC in order to fill the gap between carpets, vinyl and parquet flooring. Thicker coating is available upon request. Laminated profiles with different wood designs exist for parquet applications.
Our standard colour for PVC finishing profiles are white, beige or gray. Aluminum door thresholds are hard anodized, the aluminum extrusions are fitted to the sill under the doors. They can offer a very clear delineation among the adjacent surfaces of the floor. They wave weather barriers in themselves and can offer an optimum sealing surface for the bottom seals of the door. As they are hard-wearing, the commercial door threshold plates can offer an exceptional sealing surface for the door bottom seals. As they are hard-wearing, these plates can offer an elevated sealing surface that in this case is a door bottom sweep seal which can prevent exercise resistance or prevent contact over floors that are carpeted or uneven. We supply you with threshold profiles that have been made to withstand the daily rigorous traffic due to heavy pedestrian and wheeled traffic that is encountered inside commercial buildings. They have low-profile designs which do not impede wheeled traffic or do not offer a tripping hazard for the pedestrians. For areas needing disabled access, it is needed to ensure that the threshold plate remains suited for wheeled access and conforms to the required building code or standards. We supply aluminum threshold doors that can keep the drafts out while keeping the air conditioning or heat inside. They can be found in several finishes and lengths. They are available standard for use with the storefront or commercial doors.
Our supplied floor profiles offer innovative and effective solutions for all types of requirements in commercial and residential applications. The range comprises of a wide range of products which are made up of high-quality materials which have been all designed carefully for offering you the uncompromised style and performance at every step. The floor profiles are available in many depths and widths. They are made up of anti-slip technology without titanium and nickel bits embedded into the surface with the use of a high-pressure thermo-electrostatic process. This creates a slip-resistant surface which is similar to high grit sandpaper.
Variants
Threshold Profile with Invisible Screw
Decoluxe Laminated Threshold Profiles
Pre-drilled Threshold Profiles
Grooved Threshold Profiles
Self Adhesive Threshold Profiles
Magnetic Threshold Profiles