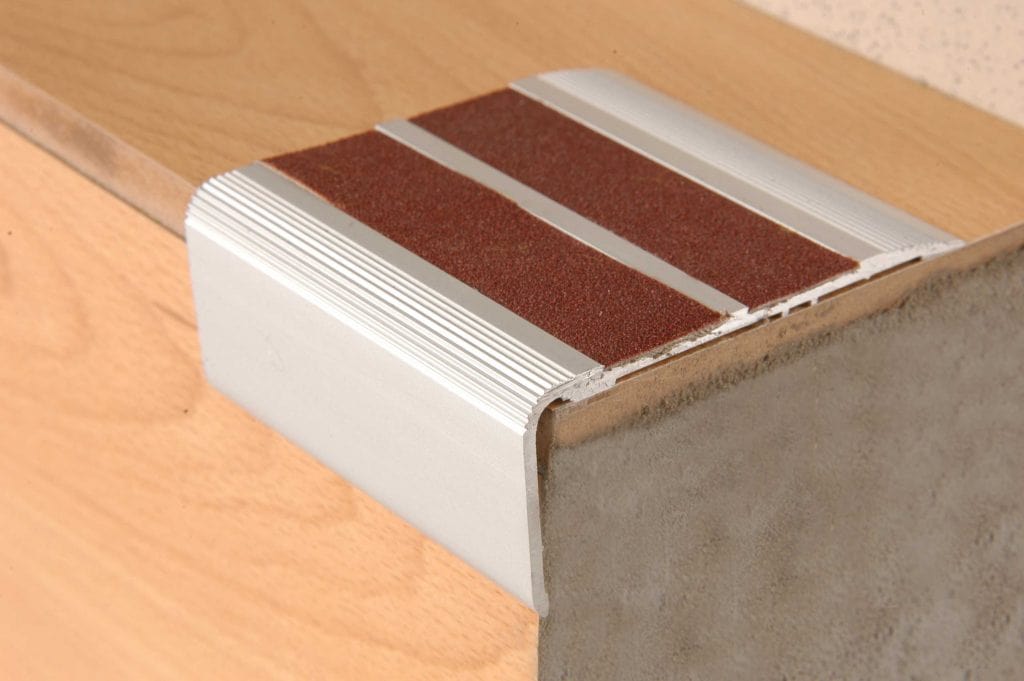 The stair nosing profiles range is used for making, defining and protecting the laying of steps in ceramic, marble, stone, etc. It improves safety on steps, protects the edges of the stairs from chipping and cracking, and provides an aesthetically pleasing finishing profile.
It's available in different heights and suitable in different stair nosing materials such as aluminum, brass, stainless steel, wood and PVC in various finishes, with a grained anti-slip or foot-strip. While installing and constructing stairs, two factors are needed to be considered which are aesthetics and safety. We supply floor nosing which can satisfy both these needs with the utmost skill. They have been designed while keeping safety in the mind. These metal stair nosing makes the edges of the step to be strengthened in the most fragile point and will get more resistant over time due to being mostly exposed to mechanical stresses because of the passage. The nosings have been intended for both layings during the construction phase of the staircase and for post laying which makes them ideal for renovation. There is a wide range of finishes and materials available which makes them aesthetically suitable solutions for the staircase. Our supplied range of progress profile stair nosing profiles is very versatile. They can be found in a wide range of materials and finishes for offering the best solution for all types of domestic applications. These type of profiles can also conform to the safety standards which governs prevention of accidents in the public places. The Non-slip profiles for stairs are finished in porcelain, ceramic, wood and other material tiles which have been designed for protecting the edges along with the nosing among the risers and treads. There are special rounded profiles that can offer a bullnose finish. They are ideal for offering resistance and elegance for all private and public applications. the reversible steel stair profiles have been designed for protecting the nosing and hiding the joint among the riser and tread. These profiles can also offer a wide range of eye-catching solutions.
Having reliable anti-slip properties and being ideal for areas having high foot traffic. The stair nosing profiles are tried and tested solutions for stairways and steps in both private and public areas. We supply several options which can be found in a wide range of colors and appealing designs. They can enhance single steps with much greater safety along with an exceptional appearance.
Variants
Anodized Adjustable Stair Nosing Profiles
Decoluxe Laminated Adjustable Stair Nosing Profiles
Aluminum Stair Nosing Profiles
Brass Stair Nosings
PVC Stair Nosings
Stainless Steel Stair Nosing
Stair Nosing Profile for Ceramic