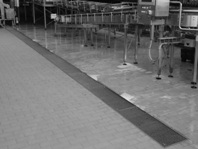 Description
Standard channels are made of stainless steel and they are used to drain water from the floor and discharge it to the sewerage. This type of drainage finds application in food processing plants (breweries, dairy plantsand slaughterhouses), chemical plants, restaurants, hospitals etc. Standard channels are also used in the facilities, where the sanitary regulations and technological process require using stainless steel drainage systems.
The standard drainage channels are manufactured in a wide range of sizes and shapes. They are made "to order"; the custom-made drawing is prepared as a result of cooperation between the client, its design or process engineer and the ATT staff.
Standard channels are made of 2 mm thick, AISI 304 or AISI 316 sheets. The channels have in-built inclination. To facilitate installation, each channel is equipped with levelling feet and anchoring elements for correct height adjustment and placement in concrete.
The channels are covered with grating. Depending on the application and load, we offer anti slip mesh, ladder, perforated sheet or plate grating. As a standard, the sections longer than 4 meters are joined by means of flanges with gaskets. De- pending on customer preferences, the standard channels can be connected with other drainage components, such as floor drains or slot channels.