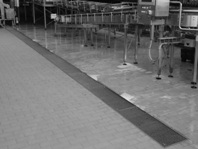 The rainwater from the drainage systems inside the underground wastewater pipes towards the rainwater collection tanks are transferred by the gutter drains towards the drywells or sewer. The gutter drain is made up of stainless steel and is light, completely free from corrosion and extremely durable. For the prevention of the drainage pipes getting blocked by branches, leaves or other types of materials, our drains come with a sludge trap. The drain is very easy to clean with the help of the inlet cover that is very easy to open. The standard channels are mainly made up of stainless steel and they are used for draining water from the floor and discharging it into the sewage. These drainage systems are used in various applications like chemical plants, food processing plants, hospitals and restaurants. The channels are standard and can also be used in the facilities having sanitary regulations along with technological processes which need the use of stainless-steel drainage systems. Gutter drains need the usage of materials which are having high chemical resistance. Adding to that there are added criteria that the load resistance of the drain grate must be adapted for a much higher frequency of foot traffic. Our supplied range of gutter channels - stainless steel is perfect to meet all the above-mentioned criteria.
MANUFACTURING TECHNOLOGY
The standard drainage channels are manufactured in a wide range of sizes and shapes. They are made "to order"; the custom-made drawing is prepared as a result of cooperation between the client, its design or process engineer and the ATT staff.
Standard channels are made of 2 mm thick, AISI 304 or AISI 316 sheets. The channels have in-built inclination. To facilitate installation, each channel is equipped with levelling feet and anchoring elements for correct height adjustment and placement in concrete.
The channels are covered with grating. Depending on the application and load, we offer anti slip mesh, ladder, perforated sheet or plate grating. As a standard, the sections longer than 4 meters are joined by means of flanges with gaskets. De- pending on customer preferences, the standard channels can be connected with other drainage components, such as floor drains or slot channels.