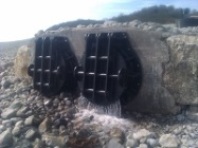 Flap valves are designed to operate under very low heads of water, in gravity flow applications, at ambient conditions between -65° and +85° C. The valve prevents backwater via a spring-loaded or weighted flap placed across the opening of a pipe, tube or duct.
In Flexseal Flap Valves, the flap and back plate are manufactured in HDPE, with a stainless steel 316 hinge-pin, counterweight and attachments. Due to the specific gravity of the HDPE, a stainless steel counterweight is fitted to ensure closure when back-pressure is present; however very low heads of water are required to open the flap, as the design is such that the counterweight balances the flap correctly.
The Flap Valve incorporates a lip seal, to provide the seal between the flap and frame, and also a self-adhesive neoprene seal to install between the frame and wall, which is fitted to prevent leakage.
Flexseal offers wall-mounted flap valves up to and including 1000mm in size and spigot-mounted flap valves up to and including 600mm. Flange-mounted, tidal flap valves and bespoke flap valves are available on request.
Features
High quality range manufactured in the UK, already supplying to the Environment Agency and Water Companies
Lighter weight than traditional cast iron flap valves, leading to easier installation and lower installation costs.
Heavy duty HDPE will withstand being struck by rocks and other debris, present in marine and river environments, which would shatter lighter weight plastics.
Waterproof qualities all the way through, not reliant on maintaining an added layer.
Not at risk from theft as no inherent scrap value
Specifications
Stainless steel hinges require minimum maintenance
All models up to DN400 can withstand a constant pressure of 6 mwc as standard
Technical support available from Flexseal
25 year minimum life expectancy
Manufactured to DIN 19569-4
Our flap valves are supplied in accordance with ISO 9001:2008 requirements.