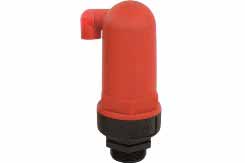 Landscaping Air Valves can offer users a commercial non-corrosive solution to release adequate airflow at the high points of a drip irrigation system during the starting. This helps you to stop water hammer and this results in damage to the system. The
Air Valves
can also prevent the collapse of the system and the ingestion of debris into the line via the release of vacuum at system shutdown. In several cases, the
air release valves
are overlooked but it is a very important component required to maintain a sub-surface drip irrigation system. These valves can allow the air to escape through the system initially during startup until the system is full of water. Once the valve closes automatically until the cycle is finished and then allows the air to flow back into the system. The air release valve also helps for avoiding clogging of the emitters because of back suction and will also extend the long-term life of the system. It can also help for avoiding water hammer at the beginning of a watering cycle. These valves are required to be installed at the highest point for every drip zone. In the Middle East and GCC market, Dutco Tennant LLC has earned an honorable position and is recognized as a trusted supplier of several types of industrial and engineering solutions. We are known by the customers because of our uncompromised service and punctuality towards time and also as a company that can always offer the best solutions for all your demands. For over the last four decades, we have been working with several private and public sectors and have been working behind the infrastructural development of several nations. Our ongoing and completed projects include airports, exhibition centers, shopping malls, networking infrastructure, hospitals, hotels, universities, schools, industrial plants, etc.
Features
Double or triple action kinetic air valves to extract and impel air from and into irrigation systems.
Made of nylon 6.6 and reinforced with 30% fibreglass. Rubber closure gasket and polystyrene float.
Operating range of 0.2 to 15 bar.
Continuous operation.
Automatic effect.
Extracts more than 500 m3/h of air on filling the installation, without the valve closing through absence of air.
Extraction of more than 45 m3/h of air in installations with hydraulic pressures of 4 bar.
It extracts the air from the installation while the pipelines are filling. When the water reaches the inside of the valve, the float
rises and closes the discharge outlet.
It provides automatic control, eliminating any residual air pockets from reaching the valve. This causes the float to drop, partially or totally opening the discharge outlet. The system pressure does not prevent this function from being carried out.
It prevents the pipes from collapsing due to pressure decrease when the system is emptied. As the system is being emptied, the float drops and opens the seal, allowing air to enter the pipe.
Specifications
Made of nylon 6.6 and reinforced with 30% fiberglass.
Sealing gasket, rubber and polystyrene float.
Male Thread 2" BSP or NPT.
Swivel female elbow with 1/2" thread and anti-insects inner screen.