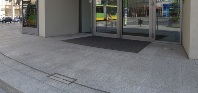 Description
We offer new solution in terms of discreet and effective drainage, recommended for application in all places, where high corrosion resistance is required.
Depending on flow rate and load class required, stainless steel top slot can be used for different types of channels made of polymer concrete or a composite material.
MATERIAL SOLUTION:
The system after installation is totally secure and resistant to vandalism, which makes it suitable for applications in all public areas. This solution is also perfect for using against buildings facades and in pedestrian areas thanks to narrow heelsafe slot.
Standard top slot is suitable for Load Class A15 applications (this product is not suitable for installation on public roads or motorways).
The standard sheet thickness used for production is 1mm.We can adjust the product to the required specification on special request.
APPLICATION:
Slot top solution is suitable for commercial developments, public areas,car parks, pedestrian zones, residential and landscaping areas.
enforced top of the slot
easy maintenance and access
easy installation
installation possible with any paving material
fast removal of surface water
compatible with most types of paving material
aesthetic look and durability
parameters can be adjusted to the Clients