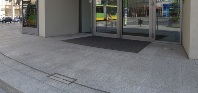 Slotted Tips - Stainless Steel is practical and aesthetically pleasing inlet for removing surface water from highways and streets in an efficient way. They are also widely used inside parking lots and other similar locations where they are used for removing sheet floe without complex multiple grades or devices for water channeling like berms, curbs and asphalt dikes. This type of drain is fabricated from steel pipes. The pipes are cut in the longitudinal axis and a straight-sided or trapezoidal grate having reinforcing spacer plates is welded in the places for forming a 1 3/4 -inch-wide slot opening. The slot can collect the runoffs and places them to the below-lying pipe via which it flows to the appropriate outlets.
We offer a new solution in terms of discreet and effective drainage, recommended for application in all places, where high corrosion resistance is required.
Depending on flow rate and load class required, stainless steel top slot can be used for different types of channels made of polymer concrete or composite material.
MATERIAL SOLUTION:
The system after installation is totally secure and resistant to vandalism, which makes it suitable for applications in all public areas. This solution is also perfect for using against buildings' facades and in pedestrian areas thanks to the narrow heel safe slot.
The standard top slot is suitable for Load Class A15 applications (this product is not suitable for installation on public roads or motorways).
The standard sheet thickness used for production is 1mm. We can adjust the product to the required specification on special request.
APPLICATION:
Curb inlets
Inlet system across driveway cuts
Shoulder drains along with median barriers
Pedestrian thoroughfares, malls and bicycle paths
Replacements for curbs and berms where those obstacles are undesirable for safety reasons
Ground-level floors with drainage requirements
Parking lots or other continuous paved surfaces
Sidelines of playing fields in stadiums
Airport aprons, taxiways, hangars, and deicing areas
Railroad intermodal facilities with heavy wheel loads
ADVANTAGE
enforced top of the slot
easy maintenance and access
easy installation
installation possible with any paving material
fast removal of surface water
compatible with most types of paving material
aesthetic look and durability
parameters can be adjusted to the Clients